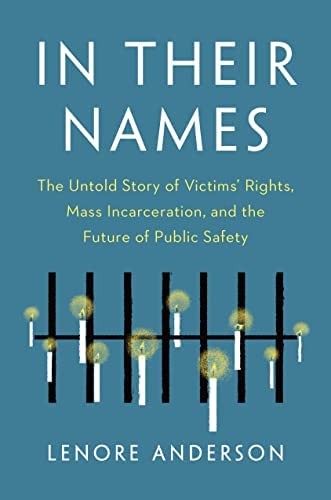 In Their Names:
The Untold Story of Victims' Rights, Mass Incarceration, and the Future of Public Safety
In Their Names, by Alliance for Safety and Justice President Lenore Anderson, busts open the public safety myth that uses victims' rights to perpetuate mass incarceration and offers a formula for what would actually make us safe.
"This well-researched, results-driven, and readable work … offers a way forward from mass incarceration to true public safety". —Booklist
Events are continually being added. Check back frequently.
The Seminary Co-Op
Chicago, IL
Wednesday, January 18th 6:00pm
The City Club
Cleveland, Ohio
Wednesday, February 15th 12:00pm
Cleveland State University College of Law
Cleveland, Ohio
Wednesday, February 15th 6:30pm
University of Cincinnati
Cincinnati, Ohio
Thursday, February 16th 6:30pm
Ohio State University Moritz College of Law
VIRTUAL
Wednesday, March 29th 12:00pm
Stanford Law School
Stanford, California
Tuesday, April 11th 4:00pm
Busboys and Poets
Washington, D.C.
Thursday, April 27, 6 p.m.
Left Bank Books
St. Louis, Missouri
Thursday, May 4th 6:00pm